Prayer Times
Prayer Times at Santa Rita Abbey
The public is welcome to attend any of our services–Mass or the Divine Office–in the Santa Rita Abbey church.
December 2018 – January 2019 Mass Schedule
Thanks to our friend, Fr. Eddie, we have Sunday Mass here every Sunday at 8:00 a.m. until further notice.
December 15, 2018 – January 3, 2019: Fr. Thomas from our monks' monastery of Our Lady of New Clairvaux in California will be here as our full-time chaplain from the 3rd Sunday of Advent until the Octave Day (Jan 1) of Christmas. We are very grateful to Abbot Paul Mark and his community for lending him to us for these holy days!
January 4-8, 2019: a priest on retreat will celebrate Mass for us.
CHRISTMAS SEASON MASS SCHEDULE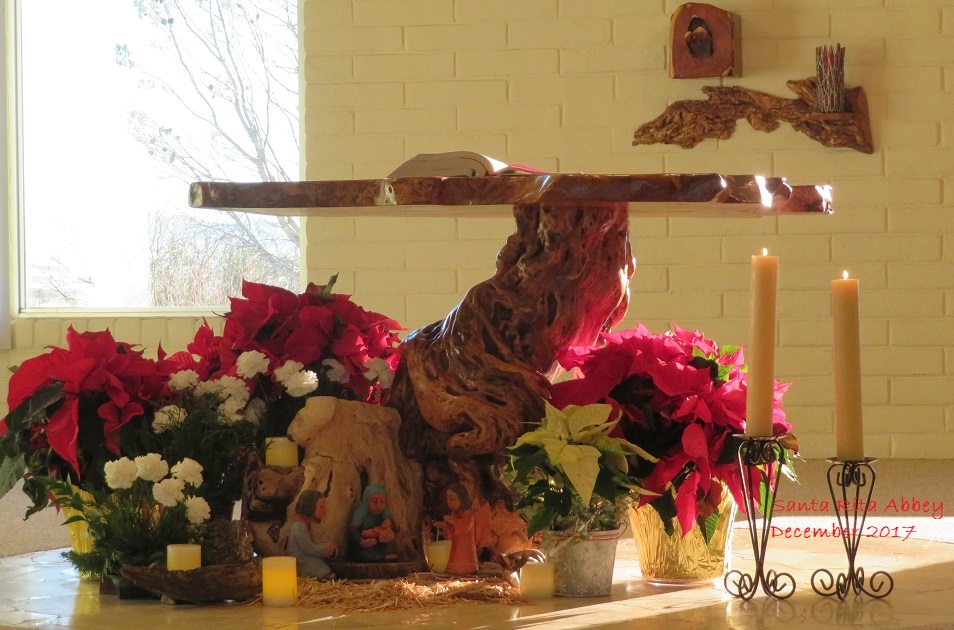 CHRISTMAS EVE MIDNIGHT MASS–begins at midnight!
CHRISTMAS DAY–Tuesday, Dec 25, Mass at 11:00 a.m. with the Bishop of Tucson, the Most Reverend Edward Weisenburger
SUNDAY MASS, Dec 30, 2018: Feast of the Holy Family Sunday, Dec 30, Mass at 8:00 a.m.
NEW YEAR'S DAY–Tuesday, Jan 1, Feast of Mary, Mother of God, Mass at 8:00 a.m.
EPIPHANY–Sunday, Jan 6, 2019, Mass at 8:00 a.m.
BAPTISM OF THE LORD–Sunday, Jan 13, 2019, Mass at 8:00 a.m.
EUCHARIST
When we have a resident chaplain:
Monday-Saturday 7:30 a.m.
Sunday 8:00 a.m.
When we do not have a resident chaplain, we celebrate a Scripture and Communion Service Monday through Saturday at 7:30 a.m. On Sundays, we attend Mass at the local parish, St. Theresa's in Patagonia and Our Lady of the Angels Mission in Sonoita. Please join us in praying for more vocations to the priesthood!
DIVINE OFFICE in the monastic church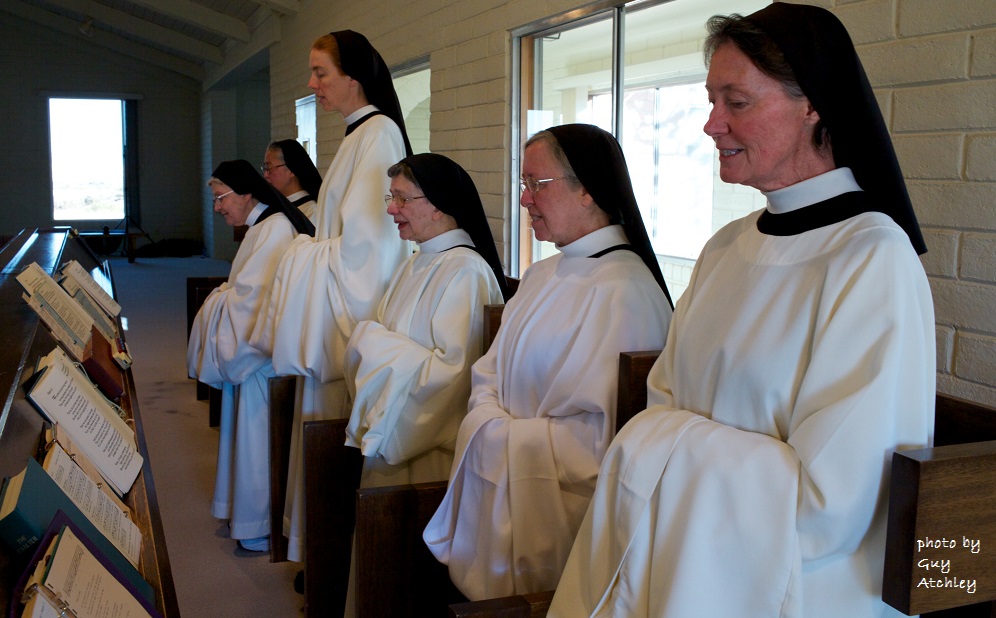 3:15 a.m. Vigils
7:00 a.m. Lauds
7:30 a.m. Mass or Scripture & Communion Service
12:00 noon Midday Prayer
5:20 p.m. Vespers
6:00 p.m. Compline
On Sundays:
Tierce & Mass begin at 8:00 a.m.
Vespers is at 5:00 p.m.