Prayer Times
Prayer Times at Santa Rita Abbey
The public is welcome to attend any of our services–Mass or the Divine Office–in the Santa Rita Abbey church.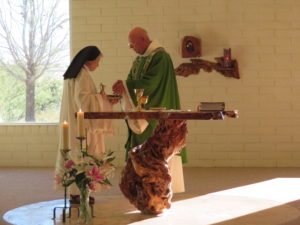 Mass Schedule for November – December 2017
Fr. James Garcia is our chaplain through the end of the year. While he is here Sunday Masses are at 8:00 a.m. and Daily Masses are at 7:30 a.m.
THANKSGIVING DAY, Thursday, November 23: Mass at 7:30 a.m.
EUCHARIST
When we have a resident chaplain:
Monday-Saturday 7:30 a.m.
Sunday 8:00 a.m.
When we do not have a resident chaplain, we celebrate a Scripture and Communion Service Monday through Saturday at 7:30 a.m. On Sundays, we attend Mass at the local parish, St. Theresa's in Patagonia and Our Lady of the Angels Mission in Sonoita. Please join us in praying for more vocations to the priesthood!
DIVINE OFFICE in the monastic church

3:15 a.m. Vigils
7:00 a.m. Lauds
7:30 a.m. Mass or Scripture & Communion Service
12:00 noon Midday Prayer
5:20 p.m. Vespers
6:00 p.m. Compline
On Sundays:
Tierce & Mass begin at 8:00 a.m.
Vespers is at 5:00 p.m.