Liturgy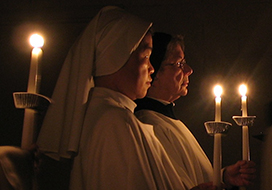 The Church is the enormity of a mystery. It is the voice of Jesus, the human being who is God, the Great Sacrifice and the Great Night that celebrates it.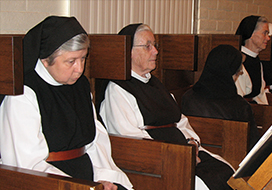 Church is we who are flawed—oh yes—but always in the process of receiving Redemption. It is the mystery of the ordinary. It is you and us, embraced by the life of Christ in its sacramental reality and gathered up into our celebration.
At Santa Ritas, our liturgy goes like this:
VIGILS in the night, recreates the symbolism and reality of the Great Paschal Vigil, home of fire in the dark heart.
LAUDS or Morning Prayer welcomes a new day and the joy of all beginnings.
The EUCHARISTIC celebration sweeps us up into the Sacramental reality of the Paschal event.
TERCE, the first of the Little Hours, recited at work, opens our labor to refreshment in psalm and reflection.
NOON PRAYER finds us back in church, dipping into the mystery of midday, before the communal meal and the gathering of forces for the other half of day and of the life it signifies.
NONE again breaks work for a few moments of dipping into the Spirit.
VESPERS closes the day with the last major Office, symbolizing the end of life and the beginning of forever.
COMPLINE is a quiet shadow of VESPERS, qently saying goodbye to another day of praise, labor, and grace.