Cistercian Altar Breads–Baked by the Nuns of Santa Rita Abbey
Who We Are
The Trappist Cistercian Nuns at Santa Rita Abbey founded Cistercian Altar Breads in southern Arizona over thirty-five years ago. Our contemplative monastic way of life is one of prayer, lectio divina, manual work, and community life. Our altar bread work enables us to support our monastery and to share with the poor. We actively cultivate an atmosphere of prayerful recollection at our work, and we like to think that our prayer is an extra special ingredient in our altar bread recipe. It is a both privilege and a joy for us to prepare the bread which becomes the Body of Christ for the People of God!
Our History
Our monastery, Our Lady of the Santa Rita Mountains, was founded in 1972 by Mt. St. Mary's Abbey, Wrentham, Massachusetts. In the late 1970's they took their first steps in the altar bread industry. We began Cistercian Altar Breads with one baking plate, a one-at-a-time people's host cutter, and a handful of altar bread parish customers. Over the course of three and a half decades, our production capacity and our customer list have grown tremendously. Today our Sisters produce millions of high quality whole wheat altar breads annually for over 300 churches all across the United States.
Cistercian Altar Breads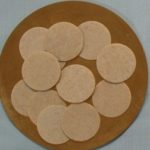 Cistercian Altar Breads are 100% whole wheat and are baked according to Roman Catholic liturgical norms.
Our breads are approximately 1.5 mm in thickness, and come in five different sizes. Three people's sizes: 1-1/8″, 1-3/8″, 1-1/2″; and two priest's sizes: 2-1/2″ and 5-1/2″.
All our breads are plain, without any markings, except for the 5-1/2″ bread which can be ordered either plain or scored for easy breaking into 16 pieces.
Our Bakery Team
It was our intrepid Mother Victoria (just Sister Vicki back then) who got our bakery started. Now it is our Sister Rita who plans our baking and cutting schedule, keeps all our specialized equipment going, and handles customer orders. All of the Sisters in our community have worked in the bakery over the years, and most of us still work there now. We are assisted by two wonderful employees, who mix the altar bread batter for us. Four of our Sisters take turns baking the breads. Two of our Sisters run the computerized cutting machine, and everyone helps with sorting (quality control), bagging, and clean-up. We love our work and we love working together. We feel blessed that we can earn our living in this deeply meaningful way. We keep all our altar bread customers in our daily prayer, most especially at the Eucharist.
Try our Altar Breads
If you've only just discovered Cistercian Altar Breads, we'd be happy to send you our free sample box and brochure. The box contains a few of each of our five altar bread sizes. We'd also be happy to send you a trial order, which you would be billed for, so your whole parish can try them out. To place an order, click on the Order button, and fill in the order form. If you have questions, please call us at 520-455-0481, toll free at 888-878-1622, or send an email to cistercianab@gmail.com.
Thank you!
By purchasing Cistercian Altar Breads for your parish, you help support the ministry of contemplative prayer in the heart of the Church. Thank you, and God bless you!