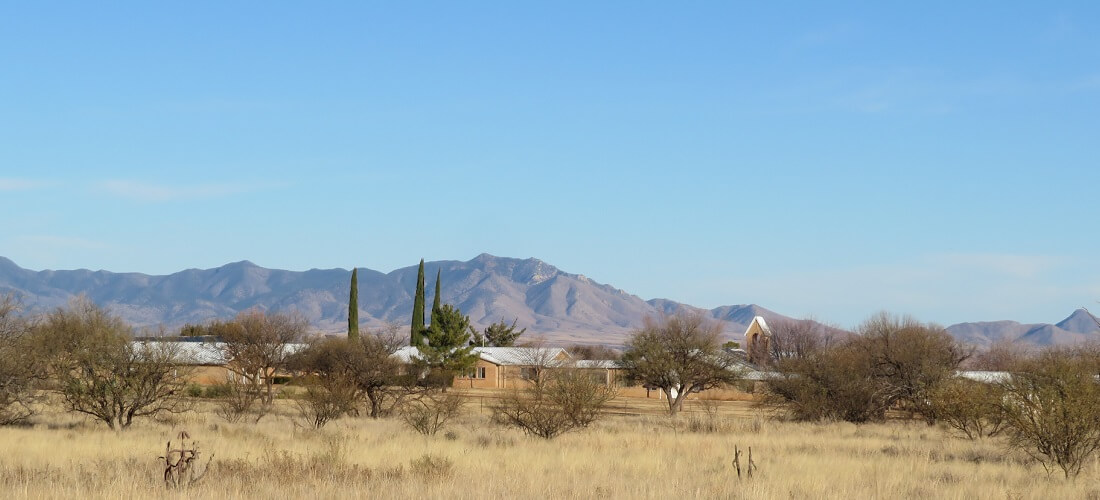 FOUNDATIONS
January 10, 2021: A Reflection for the Feast of the Baptism of the Lord, Year B
Mark 1:9-11
You are my beloved Son . . .  (Mark 1:11b)
It was among the first inspections when we began construction of our monastery. To look at the work that lay at our feet, you would wonder why you needed anyone at all to check out these deep trenches lined with re-bar. Yet, here stood the inspector with checklist in hand, poring intently over its depth, how the re-bar was tied together and a lot of other very unimpressive, to me, data. As the years have passed, I understand more and more how important these seemingly unimportant-looking channels really are. One of the first things to notice is that the roof is still over our heads. Without foundations built to support a building, all this around us would be rubble. It's all about the quality of the foundations upon which something is built.
Jesus would not have been a stranger to the importance of foundations. At His Baptism in the Jordan, the Spirit descended upon Him like a dove and the depths of His being resounded with the truth of the Spirits' message: "You are my Beloved Son; with you I am well pleased." His whole being, his whole life rested upon this deep foundation. The Baptism of Jesus was the outward confirmation of the deepest part of what it is to be human, and what is invisible to the eye of the body, but so important: you are my beloved child. Nothing and no one can ever take that truth away from each and every one of us. Not another person, not our thoughts or feelings, not circumstances. It is our foundation, carefully and lovingly dug deep into the very fiber of our being by our Creator.
And from this point of recognition and experience, Jesus' was sent forth upon his mission. Jesus' foundations ran deep. How else could he have accomplished all that the Father had given him to do? We, too, have been commissioned to fulfill our life's mission. Our depths, our identity, too, rests upon our deepest truth: we are the beloved of God. We didn't have the voice from Heaven and the Spirit descending upon us in the form of a dove, but our God-given truth remains. Who we really are, our deepest and truest self, is the Lord who commissions us to build our lives upon the love which calls us to relationship.
Jesus, still our hearts this day and draw us down, down to the depths where you, the Father and the Spirit, as our very foundation, may speak to our hearts: You are my beloved. And may you lead us forth to be this love that you are to every person and all creation.