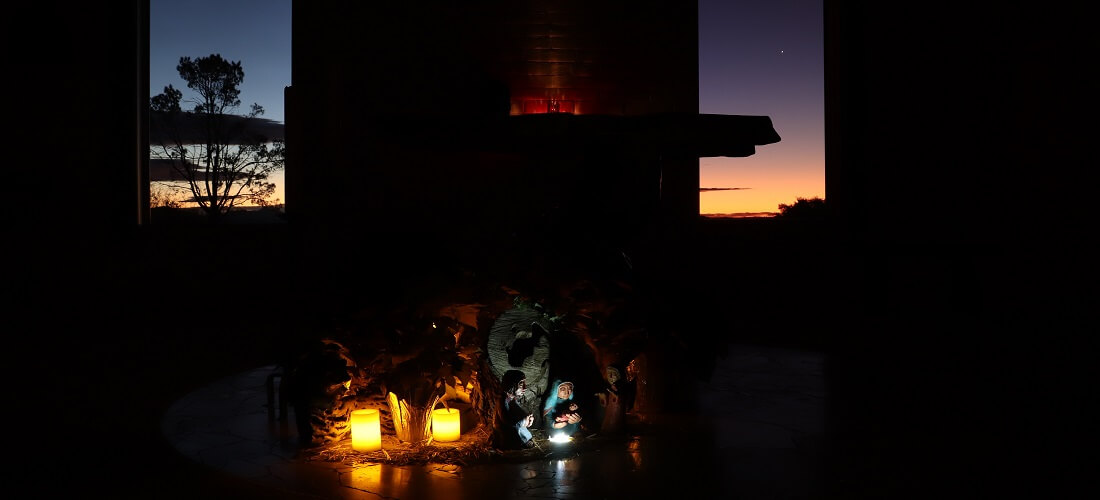 A CHILD IS BORN TO US
December 25, 2020: A Reflection for Christmas Day
Tiny One, within your swaddled body the mystery hidden for ages and generations is now revealed. The soft glow of the Christmas star bathes you in its rays and points to the intense Light within you, invisible to our eyes, made manifest in human flesh. You are Son of God and ben adam – Son of Adam. Fully a human being, fully the Divine Son of the Father. Yet there is nothing about you that would stun us with the divine or make us think you are any different from us. You are just like us. And you bear within every cell of your being, the fullness of God and the fullness of human life. One does not cancel the other out. It lives in the unity of the Mystery you came to reveal. The mystery that lies at the heart of all creation. And lies within us. We, too, are a child of the Father and a child of adam.
Little One, you are the great I AM and the human baby, nestled at your mother's breast. Both at the same time in perfect unity. It is a tender scene and who would have suspected then the enormity of your mission. You matured and revealed in the fullness of time, your incredible plan, hidden for ages: You the Word made flesh, have become one of us in everything except sin. You have always been Emmanuel, God-With-Us, as the Word filling the universe. Everything and everyone pulses with your presence. You are at the center of all that exists, from the beginning until now. The Mystery, the Plan, is your ever abiding Presence within all you have created. You abide in us and we in you, not in a static way but as the deepest energy of life and unity, and you call us to live from this Presence in our humanity and to be your Presence of love, kindness, mercy to one another and to the world. It was your mission and you have revealed to us that it has always been ours, too, and always will be.
Jesus, as we gaze upon our creche, and like your mother, ponder all these things in our hearts, let the kindly light of your Spirit open our hearts wide in trust as we live through love in your Presence.