November 2020 Fall Update
Since early this year we have been praying for the peoples of the world as the COVID-19 virus spread across borders and oceans. We've never stopped praying, but now as the number of infections and deaths rise this winter, our prayer has more urgency to it: that a safe and effective vaccine will soon be available for everyone, that all those who are sick now may recover, that all those caring for the sick–whether at home or in hospitals–may stay safe and healthy, and that those who are struggling to make ends meet will receive they assistance that they need. Lord Jesus, Divine Physician, hear us!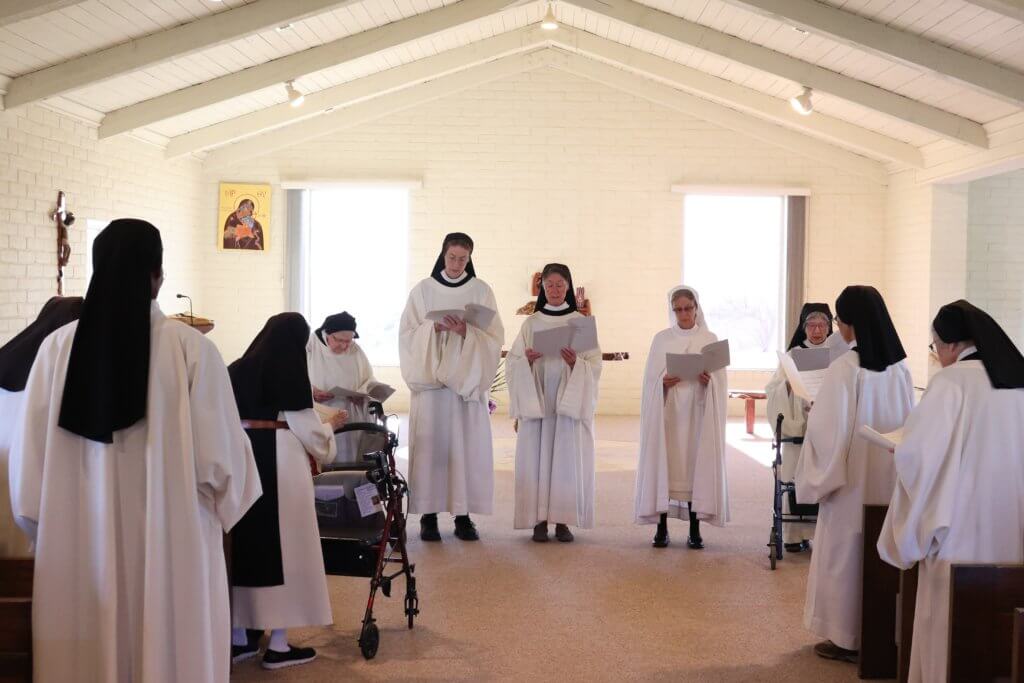 Meanwhile, here at Santa Rita we are doing our best to stay safe and well. We are grateful that our daily life in community and our ministry of prayer has continued without interruption. Our guest chapel and retreat facilities have been closed to the public since mid-March and will remain closed until a vaccine is widely available and effective, so it is even quieter than usual around here. Our income was sharply reduced as parishes across the country closed their churches this spring. For forty years we've baked whole wheat altar breads in our bakery, Cistercian Altar Breads, and sold  them in order to earn our living, but for several months this year we were virtually unemployed. Parishes cautiously reopened later this summer, and this fall we began receiving orders for breads once again. Things are not back to normal, either for parishes or for us, but we are happy to be back to work at least part-time, once again baking, cutting, and shipping our altar breads.
On a happier note, Fr. Mark Scott, former abbot of New Melleray Abbey in Iowa, was here for three months this fall as part of his sabbatical. First he underwent two weeks of self-isolation, and then, once he emerged healthy and well-rested, he began offering Mass for us every day in our chapel. It had been five long months since we'd had Mass here. Fr. Mark's first Mass was on August 15, the feast of the Assumption of Mary. That's the patronal feast of all Cistercian monasteries, which made it an especially happy occasion for us. Fr. Mark left us after Mass on All Souls' Day, but we hope to see him again in 2021. In the meantime, we are back to our daily Scripture and Communion Services.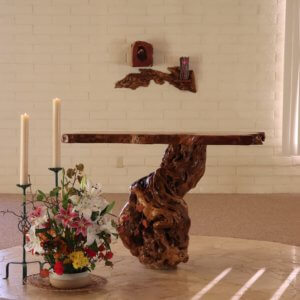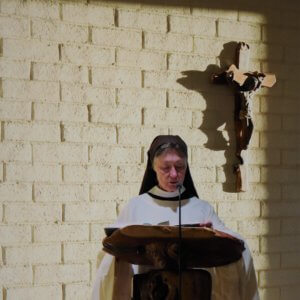 A belated Happy Thanksgiving to all! We hope that you and your loved ones had a safe and meaningful holiday. It has been a difficult year for everyone, but may we all have gratitude in our hearts as we remember that there were blessings this year, too. The following verses from chapter 3 of the Letter to the Colossians are appropriate for Thanksgiving Day and throughout the year:
Put on then, as God's chosen ones, holy and beloved, heartfelt compassion, kindness, humility, gentleness, and patience, bearing with one another and forgiving one another, if one has a grievance against another; as the Lord has forgiven you, so must you also do. And over all these put on love, that is, the bond of perfection. And let the peace of Christ control your hearts, the peace into which you were also called in one body. And be thankful. (Colossians 3:12-15)
Among the blessings of this year we give thanks for our newly remodeled kitchen. We moved into it in early June and have been enjoying it ever since. What a pleasure it was to cook our first Thanksgiving meal in it!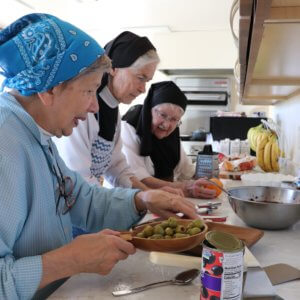 We also give thanks for a group of very special men and women: our volunteers. Colleen and Dennis Carver, Clay and Marcia Landwehr, and Juanita Havill have all generously given of their time and talents this year. Everything from building a snake-proof fence for the art studio porch (after Sr. Esther found two huge rattlesnakes there this summer!), countless fix-it jobs at the retreat house, sorting books from our library, and much more. God bless you, every one!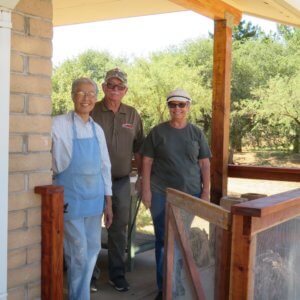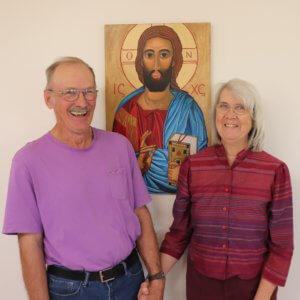 Until this year we shared our annual Thanksgiving Day meal with the three monks of Erlac Benedictine Monastery, our nearest monastic neighbors. Sadly, their abbot, Brother Pachomius, passed away in March. He is greatly missed! The two surviving members, Br. Lawrence, and oblate Br. Dominique, knew that they could not continue without him, and so the monastery was closed in May. Br. Lawrence is being lovingly cared for at a facility in Tucson, while Br. Dominique returned to his home in NYC. Because of COVID-19 we have not yet been able to celebrate a Mass of Christian Burial for our beloved Br. Pachomius. We hope to be able to do so sometime in 2021, after a safe and effective vaccine is available for everyone.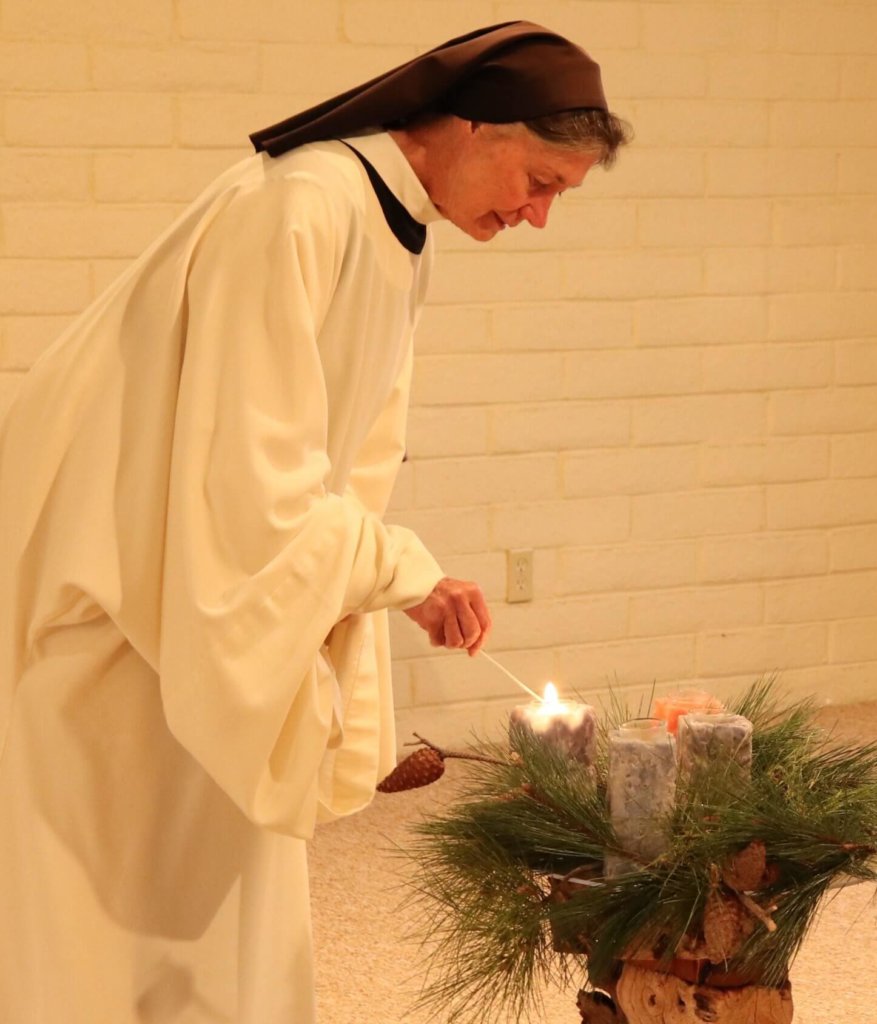 And now the season of Advent is upon us! May you and your loved ones stay safe and well throughout the coming holiday season. Know that we are praying for you and for the entire global family. May 2021 bring good health and a good beginning of economic recovery to all.
Here are two more verses from Colossians to guide us through the this time of waiting for the coming of the Lord.
Let the word of Christ dwell in you richly, as in all wisdom you teach and admonish one another, singing psalms, hymns, and spiritual songs with gratitude in your hearts to God. And whatever you do, in word or in deed, do everything in the name of the Lord Jesus, giving thanks to God the Father through him. (Colossians 3:16-17)