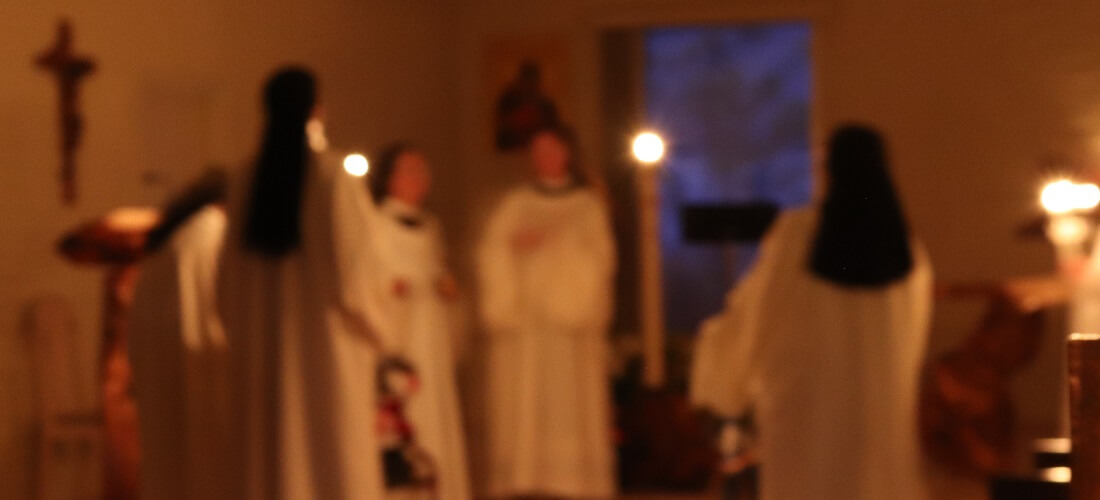 April 11-12, 2020: Reflections for the Easter Vigil and Easter Day
April 11, 2020: A Reflection for the Vigil of Easter, Year A
Matthew 28:1-10
ALLELUIA!
I wonder what was in the hearts of Mary Magdalene and the other Mary as they walked together to the tomb of Jesus on the morning after the Sabbath. Their deep love for him must surely have driven them onward, just to be near him as he lay in the tomb. As light crept silently over the countryside and kissed the hills, what must have been their utter shock to feel the ground quake beneath them and to behold an angel whose appearance was like lightning, roll away the stone to the tomb! How touching that it was these two humble women-disciples of Jesus who were the very first witnesses to the Resurrection. "Do not be afraid! The crucified One is not here. He has been raised, just as he said. Come and see the place where he lay," the angel announces. "Then go quickly and tell his disciples that he is risen and meet him in Galilee where they will see him."
They left the tomb as quickly as their legs would carry them, frightened to the core and yet overflowing with joy. And then, on the way (this is a very pregnant phrase, think of Jesus the Way) who should just happen to meet them but Jesus Himself.
They approached him, embraced his feet and probably could not contain themselves for sheer joy. All that he said was true! Death is not the final answer to life. Nor is it an end. Jesus, their beloved and dearest friend, has opened the way to experience the life, the presence of God, shining in every human, and every atom of creation. He IS life, and in his Pasch that life explodes into the farthest reaches of all that exists. He the light of the world, the fire burning brightly in the heart of all creation. It has always been so, but now, in his Resurrection, we mortals, his beloved sisters and brothers, have been given the inner eyes to see him in all that exists. Everything is a paschal candle, burning brightly to dispel the darkness and expose to the eyes of faith, Jesus the Risen One, the Light of the World.
Jesus, our words seem hollow in the presence of your infinite love. Receive our deepest love in return, open us wide to receive you and bask in the light of your 'yes' to enter our world, to love us to the end, and in the power of your Resurrection, to be our raison d'etre, our reason for being. Alleluia!
April 12, 2020: A Reflection for Easter morning
HIS LOVE ENDURES FOREVER
Last night we sang in the Exultet: "What good would life have been to us if Christ had not come as our redeemer." And later in the liturgy, we sang: "Give thanks to the Lord for he is good. For his love endures forever," to which we immediately burst into the glorious Paschal Alleluia. Just what happened at the first Easter that makes life worth living and that we can sing exultantly that God's love is forever?
All of Jesus' teaching and his gospel message is directed to lead us to our hearts, to that center of our being where at each moment we come forth from the creative love of God and share in it as a child of God. God is not far off; in fact, he fills every particle of the universe. And what makes Easter so earth-shaking is that through his offering of himself to the Father with all the love of his heart, Jesus is revealing to us our deepest selves, our true identity from which we are created to live. And that identity is love. That is his kingdom that he wants us to share and to bring to every creature. We are loved as Jesus is and covered in mercy. How Jesus walked this planet is how we are called to walk it. Think of his many counsels: Love one another. Remain in my love. Greater love than this no one has, that he or she lay down their life for their friends. Let the Spirit take us deep inside and discover this self whose essence is God/Love. It is in yielding to this presence that we move from merely observing the Pasch as one would a movie but letting God take us deep, deep within so that Jesus' Pasch becomes ours in the everyday journey of our lives. We have the Spirit for this very reason.
What good would life be to us if Jesus had not opened up to us God's indwelling presence and commissioned us to walk in him and with him? If we had not had our very hearts opened to ourselves so that we are given the sight of how incredibly we are united in our substance with God? To be freed from the shackles of living only for ourselves and to walk in the glory of the resurrected life of humble love and service. Had Christ not died for us and burst open the tomb of ignorance of our true nature, life would surely not be worth living. But we know from the inside out, from the depths of our being, that life is now a gift beyond measure and that as we walk in love, we grow toward that final day when we, with Jesus, will be resurrected to the fulness of love, light and peace along with all the universe. Jesus, rise from our depths this day and always. Take our hand, lead us, and be the "yes" within us that gives our life meaning. Alleluia!