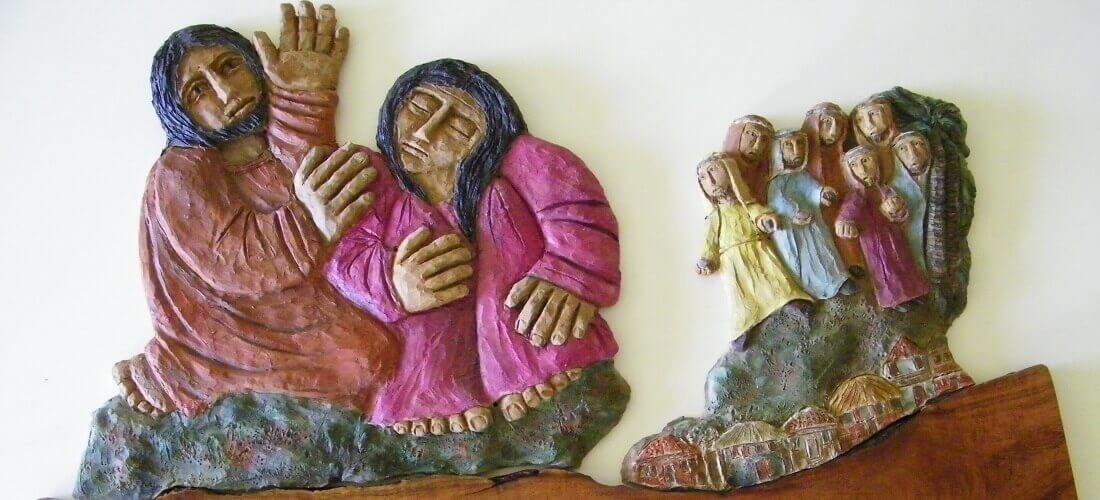 Retreat Talks March 30 – April 3, 2020 (5th Week of Lent)
When Fr. Thomas wasn't able to travel and come lead our Lenten retreat, Mother Vicki shared her own daily lectio divina with us in the following reflections.
March 30, 2020: A Reflection for Monday of the 5th Week of Lent
John 8:1-11
NEITHER DO I CONDEMN YOU
"Woman, where are they? Has no one condemned you?" She replied, "No one, sir." Then Jesus said, "Neither do I condemn you. Go, and from now on do not sin anymore." (Jn 8:11)
In the psalms, we say once every two weeks, "He does not treat us according to our sins nor repay us according to our faults." (Psalm 103:10) Jesus gives this passage a face and a heart – and a look into the essence of God: love and mercy. Today we hear of the woman caught in adultery. We bump into the very petty, human response of self-righteousness and an agenda of judgement and punishment under the guise of enforcing the law and hopefully of catching Jesus in speaking against the Law.
Jesus, ever true to his mission of mercy and forgiveness, can see right through all this and bends down to write on the ground. He stops the whole charade by refusing to walk into the trap and opens up an awkward silence where the accusers and the accused could have the space for self-reflection – if they would enter it. Then Jesus straightens up, brushes the dirt from his fingers and gives them a challenge to walk into the truth of where they were coming from. "Let the one among you who is without sin be the first to throw a stone at her." Her accusers took up the challenge and left, one by one beginning with the elders. So that leaves Jesus alone with the woman. "Woman, where are they? Has no one condemned you?" She answers, "No one, sir." And then the floodgates of mercy are opened, and from the heart of Jesus, he covers her with the love of God: "Neither do I condemn you. Go, and from now on do not sin anymore."
Jesus, there is nothing that we can do that is beyond the healing love of your mercy. NOTHING. What opens the floodgates of your heart is the acknowledgement of our wrongdoing. As it says in the Hebrew Scripture, "Only know your guilt." To stand before you, just as we are, no defenses, to trust in you. And you never fail. You sweep us up in your arms, wash our wounds, bandage them and give us a kiss. Then you commission us to do the same with one another. The woman's accusers faced the truth of themselves and walked away in the light of mercy. The woman herself opened her depths to you and did not defend her actions. And you tell her to sin no more. To walk back into her daily life with the strength and courage that your mercy brings. It is not easy to face those things within that lead us to sin. But the mercy of God opens up to us all the courage we need to allow us to follow the Spirit and walk courageously in humility and self-awareness that expresses itself in love, kindness and reconciliation. You do not treat us according to our sins nor repay us according to our faults. And you invite us to do the same with one another. May it be so in our lives, Jesus.
March 31, 2020: A Reflection for Tuesday of the 5th Week of Lent
John 8:21-30
THE ONE WHO SENT ME IS WITH ME
"The one who sent me is with me. He has not left me alone, because I always do what is pleasing to him." (Jn 8:29)
Jesus, what comforting words you bring us in today's gospel. We are never alone. Never ever alone. You abide in our depths in the presence of the Trinity. And your presence! Who can find enough words to express all you are? How can we even put words around the mystery you are and to which you invite us to share in relationship. We belong to this world and you yearn to reveal yourself as I AM. We can never plumb the mystery you are and in fact, you don't invite us to experience you in our intellect alone. It is in the luminous darkness of your essence that you draw us in love to relate in love. You are beyond words and human concepts. But in love and the surrender of Yes, we may enter into relationship with you. You invite us to be still and know that you are God. To rest quietly in your embrace, happy to be beyond words, and still as a child on its mother's breast.
No, we are not alone. When it gets dark inside and we find it hard to see the way, help us remember that you are there with your faithfulness and love. You are with us in our joys, in the challenges that you present to us in order to bring us to the freedom of the children of God. When moments of suffering come our way, let us know that you carry it all along with us. We are not alone. When we feel lonely may your presence in our depths lead us to the truth that you are with us.
And Jesus, help us to live from the depths of your presence. Transform us more each day into havens where your love thrives and where it is our joy to live through love in that presence. And in your tenderness, help us to rejoice in the knowledge that we are your little creatures who want so much to live for you and in you and who accept that all you ask of us is that we try. You never leave us alone and we reach out to take your hand in trust as we walk into the sunlight of this new day.
April 1, 2020: A Reflection for Wednesday of the 5th Week of Lent
John 8:31-42
HE WHO IS THE TRUTH WILL SET YOU FREE
"If you remain in my word you will truly be my disciples, and you will know the truth, and the truth will set you free." (John 8:31)
Remain in your word. How do we do that, Jesus? You invite us and surely you will show the way. It must be more than storing your word in our memory, an intellectual exercise only, to be retrieved at important moments during the day. Remain in your word. Could you possibly be inviting us to a deeper relationship with you, THE WORD? Relationship, communion with your very person deep within us. And by remaining in you, we will become your disciples and we will know the truth. Again you draw us toward yourself. We will know the truth – you who are THE TRUTH. We will know the truth as a person in its very essence, and you who are THE TRUTH will set us free.
Knowing truth as a divine person is like drinking pure water as it gushes from its source. It is more than a dogma. It is an experience that plunges us into the mystery of God and in which we see as in a mirror, darkly. You give us the truth as a person, Father, not to entertain our minds, but to be the very life force within us that moves us, through love, to live in the utter freedom of a child of God. We will know the truth, you, Jesus, and you will set us free.
And if you, the Son, set us free, we will be free indeed. Jesus, we need you to bring us to these deeper places within where you beckon us to remain in you and you in us. We don't know the way. But you ARE The Way, so scoop us up and carry us where we cannot go by ourselves without losing our way. You are the one the Father has sent. And we are your beloved. Help us to remain in you, The Word, that we may truly be your disciples, so that we may know you, The Truth, and you, in your tender love, will set us free. Free to be your love to one another in caring, respect and service.
April 2, 2020: A Reflection for Thursday of the 5th Week of Lent
John 8:51-59
GLORY
"If I glorify myself, my glory is worth nothing; but it is my Father who glorifies me." (John 8:56)
Jesus, the time for completion of the work your Father commissioned you to accomplish draws ever closer. There is urgency in what you say and do, as you pour out your heart to all who will listen. You know how difficult your message will be as it falls into the hearts of your disciples. You are saying that God is your Father, and that you are his Son. That you know him from the beginning and not only that, but you and the Father are one. As if that is not enough, the Father and you share the same essence, and you are older than the venerated Abraham. With the Father, you are I AM! God. The Holy One of Israel.
Jesus, you and your mission are one. And you crack open this mystery by opening up to us what you call glory. You say if you glorify yourself, if you step away from your mission, your glory is worth nothing. The glory you speak of is your oneness with the Father and the fulfillment of your saving death and resurrection. The glory you speak of is the self-sacrificing love and mercy you came to pour out on all creation. As you stand at the threshold of your Pasch, you call out, "Glorify me, O Father, with your own self. With the glory which I had with you before the world existed." We sing every Sunday at Lauds during Lent, "Father, glorify your Son that your Son may glorify you." What is the glory of which you speak?
Your glory is your self-emptying love. The love which is your essence you pour out on us in mercy, forgiveness and reconciliation. Even to death on a cross. But your mission did not end in death. The Father raised you up and you have taken your place at the right hand of God to continue pouring yourself upon us through the Spirit. "Behold, I am with you always, to the end of the age." (Mt 28:20)
In these sacred final days of Lent, quiet our hearts. Open us to you and to your love. Help us to live in true glory, true transformation into you, Jesus, meek and humble of heart.
April 3, 2020: A Reflection for Friday of the 5th Week of Lent
John 10:31-42
INTENT
"If I do not perform my Father's works, do not believe me; but if I perform them, even if you do not believe me, believe the works, so that you may realize and understand that the Father is in me and I am in the Father." (Jn 10:37-38)
Harmony. We know what it is when we hear a choir sing in harmony, when people live in harmony. There is peace and order and a certain unity that does not sacrifice the integrity of the individual but exposes it and brings it to light. In today's gospel, Jesus speaks from his heart about who he is and the works he performs. He tells his listeners that who he is and what he does are harmonious. The works spring from his depths as Son of God and his union with the Father. If his listeners could not believe his word, then look to the expression of his inner depths and believe his works. They mirror who he is.
Br. Ronnie had a word for this. He called it intent. Whatever we do, our works, comes from what we intend. For example, if you see a pie sitting on the counter, you know someone had the intent to make it. You see the inner through the outer manifestation. And to Jesus, this is very important. So important, that he could tell people to look at his works if they wanted to know who he is. To bring the inner and outer into harmony.
Jesus, help us to act from conscious intent. Not blindly, not with an agenda, not deceitfully. Before we act, help us to be clear about where we are coming from so that we can say with you that others can know that we live in you by our works. What we do always manifests our deepest intent, for good or for bad. Walk with us today and always. May the good that you have placed in our hearts be seen in what we do. Be with us when we fail. Pick us up, dust us off and encourage us with your mercy. May we walk this day in harmony with you, with one another and with our deepest self.