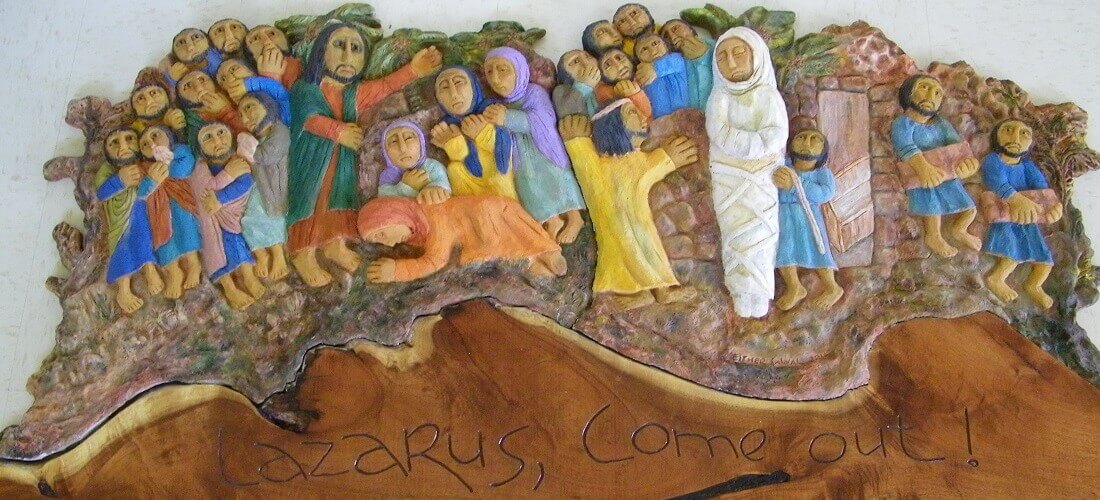 UNTIE HIM AND LET HIM GO
March 29, 2020: A Reflection for the 5th Sunday of Lent, Year A
John 11:1-45
Jesus, there is so much in this Gospel that my mind swims. Lazarus your friend has died and when given word that he was ill, you wait two days before you begin the journey to Bethany. By the time you get there, Lazarus has been dead four days. And this, after you told your disciples that his illness would not end in death but would be for the glory of God. How you stretch your disciples and invite them ever deeper into the mystery of who you are and faith in you beyond what the senses can reveal!
It is so comforting, Jesus, to see you embrace your humanity. At seeing Martha and Mary weeping, you let yourself feel grief at the loss of your friend and your tears flowed with theirs. Martha, ever the practical one, warned you of the stench that four days of waiting would bring, and again, you stretched her faith in you. You told her that her brother would rise and invited her from resurrection as an event to resurrection as a person – you, Jesus the resurrection and the life. Yet she understood and took the plunge into faith and trust in you, THE resurrection and the life. As Julian of Norwich would say: all shall be well and all manner of things shall be well. Martha didn't need to grasp it with her mind. She grasped it through trust in you, the person of Jesus.
You walk with Mary to the tomb and order the stone rolled away. Who could be prepared for what happened next? In a loud voice you command Lazarus to come out. And the man who was dead four days stumbles forth, swathed in burial wrappings and a cloth over his face. You tell those present to untie him and let him go free. He who was dead, still wrapped in the shackles of death, walks into life – the newness of life that is a person. You, Jesus, the resurrection and the life. The newness of life that is lived in faith in the Son of God who loved him and gave yourself for him. And in this giving of yourself, is life. For nothing shall be impossible for God.
Jesus, help us to yield ourselves to you when you stretch our faith through the circumstances of life as they come to us, when you invite us to trust in you when it seems we can barely take another step in the darkness and then discover in you, the light of life. Plunge us into the abyss of love, which is your essence, and untie the burial wrappings that make us stumble and bind our hearts, and set us free to follow you. Through our Yes to you, untie us from all that we cling to that is not you. And set us free.