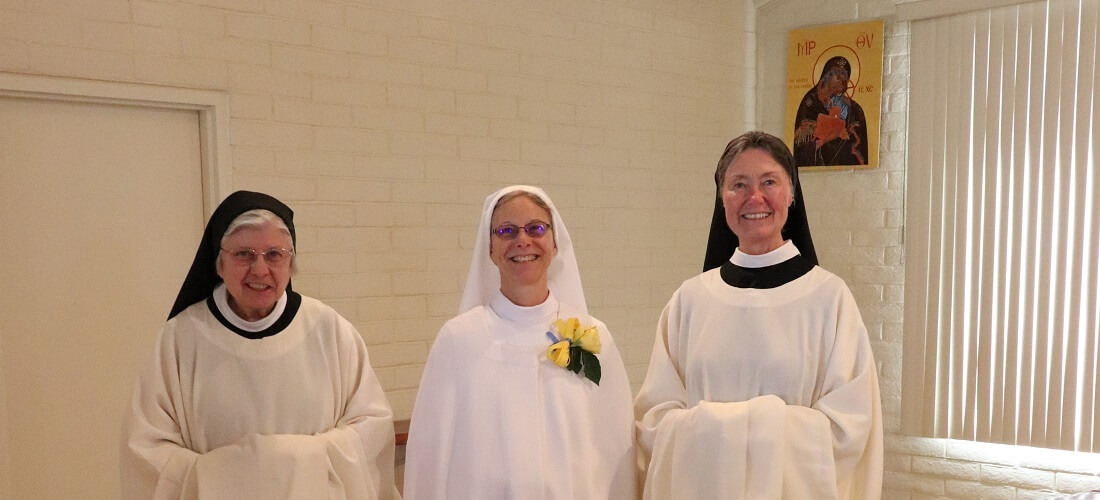 Mother Vicki's chapter talk for Sr. Sharon's Clothing Day
"I will lead her into the desert and there I will speak to her heart." Here we are, dear Sharon, one year into Cistercian life in the magnificent high desert of the Southwest and this place of Santa Rita Abbey. God has led you here and you have heard his voice and responded with love. He has been leading you through deserts of a different sort, to this community. A place to seek God and a place for God to seek out your heart with his love and mercy. To speak tenderly to you in this place, through your sisters, through the daily round of Cistercian life, and through all that the desert is. To speak through the infinite sky, the stars that shoot and shine in their magnificence. The dawns and dusks that surprise us with their glory and enfold us in the beauty of God. The mountains, which speak of the everlasting Rock that God is to us. To gaze upon the undulating hills and experience in your heart, Jesus, the desire of the everlasting hills. To hear the joy of God in the song of a bird. To see the smile of God on the faces of your sisters and share in his love through sharing our life and love with one another. In the love of God, to care for one another and support each other as we follow in Christ's footsteps on the desert journey together.
We welcome you with much love and joy as you take this next step in your Cistercian journey along with your sisters into the heart of God.