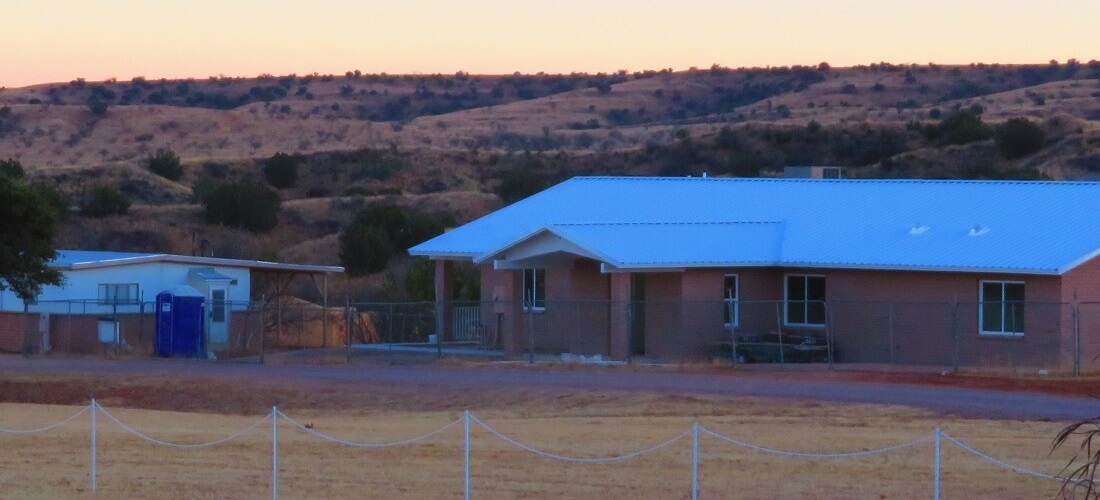 Jan-Feb 2018 at Santa Rita Abbey
January-February 2018 at Santa Rita Abbey
Things have been busy around here so far this year. Here are some highlights.
Fr. James Garcia was our resident chaplain for six months of 2017, July-December. He left us after Mass on January 1, 2018. We are grateful for his generous service–not only providing us with the Eucharist and the Sacrament of Reconciliation, but also cheerfully lending a hand with various chores around the monastery and retreat house! Thank you, Fr. Jim, for your months of devoted service to our community! May God bless you as you move on to your next assignment.
On January 3, Dom Brendan Freeman, abbot emeritus of New Melleray Abbey in Iowa, arrived for our official Visitation. Each monastery of our Order has a Visitation every two years. It is a time for a community to take a serious look at itself–how well are we living our Cistercian heritage, how balanced is our daily life between prayer, lectio divina and work, what challenges do we face, and what concerns might we have as we go forward as a community? We all enjoyed this opportunity to talk with Fr. Brendan and then hear back from him his impressions of our community life. Thank you Fr. Brendan!
On February 4 we had a bittersweet visit with the Benedictine Sisters of Perpetual Adoration. Their monastery has been an oasis of prayer in the city of Tucson for over 80 years, but they have been called back to their mother house in Clyde, Missouri. The Tucson monastery has been sold, and the Sisters have had the sad task of packing up and moving out. We invited them for a
farewell meal with us. As you can see from the photos, we had fun sharing stories of the various mishaps and adventures of our lives in the School of the Lord's Service. We belong to different religious congregations, but we all live by the Rule of St. Benedict, and so our lives of prayer, lectio divina, work, and community are very similar. They have been our city cousins and we their country cousins ever since our own monastery was founded 46 years ago. We are so grateful to them for their friendship and great generosity to us over the years. We miss you already, dear Sisters!
Our friend Fr. Olaf Winter, a priest from the Diocese of Freiburg in Germany, came for his annual pre-Lent retreat. He appreciates the warmer weather in Southern Arizona and a chance to renew his spirit in our quiet environment. We appreciated his celebrating daily Mass for us and loved his homilies, too. He was here for Mass on Ash Wednesday, which got us off to a good start for Lent. He also filled us in on his ministry to his six new parishes. Yes, six! Previously, in another location, he had ten parishes to look after. We look forward to his return next year.
In addition to human visitors, we've also had some bovine visitors this winter! The Vera Earl Ranch isn't far away, and this time of year the rancher's is cattle grazing on the Forest Service lands on the other side of our fence. One day we were surprised to discover five large Herefords grazing in our cemetery–oops, the fence must be down somewhere … Turns out that one of the cattle guards on the western side of our land had filled up with sand from all those summer downpours we've had in recent years. Before the cattle guard could be taken care of, a pair of Herefords came back for another visit.
We've been very busy at Cistercian Altar Breads the last few months. The demand for our whole wheat altar breads always goes up during the Advent, Christmas, Lent and Easter Seasons. This year we've had to scramble a bit to keep up, so we've hired another local woman, Leslie, to lend us a hand. Leslie has been learning how to mix the altar bread batter for our sisters to bake. No easy task! Our recipe is extremely simple (whole wheat flour and fresh water), but you'd be surprised how hard it is to get the batter at just the right consistency for optimum baking. Leslie's been at it for about a month now and is doing well! She's also been trained in as an altar bread sorter and is learning to run the bagging machine. Our other employees, Bernie and Lupita, our regular mixers for several years, are learning new jobs as well. Bernie is trying her hand at baking, and Lupita is being trained to run the computerized cutter. We younger Sisters still do most of the baking and cutting, while our older Sisters make a great sorting crew, but we are grateful to our employees for their help with some of the heavier work.
Our new Family Guest House is nearing completion! Our construction crews have been working hard all winter. Since we last mentioned the project (in our Nov-Dec 2017 Journal), the interior walls have been completed, cabinets & counter tops installed, ceramic tile installed in kitchen, laundry, bathrooms, and entryway, doors stained and varnished, kitchen appliances installed; on the outside, the porch now has its railing up. It's getting exciting! Here's a few photos from January and February.