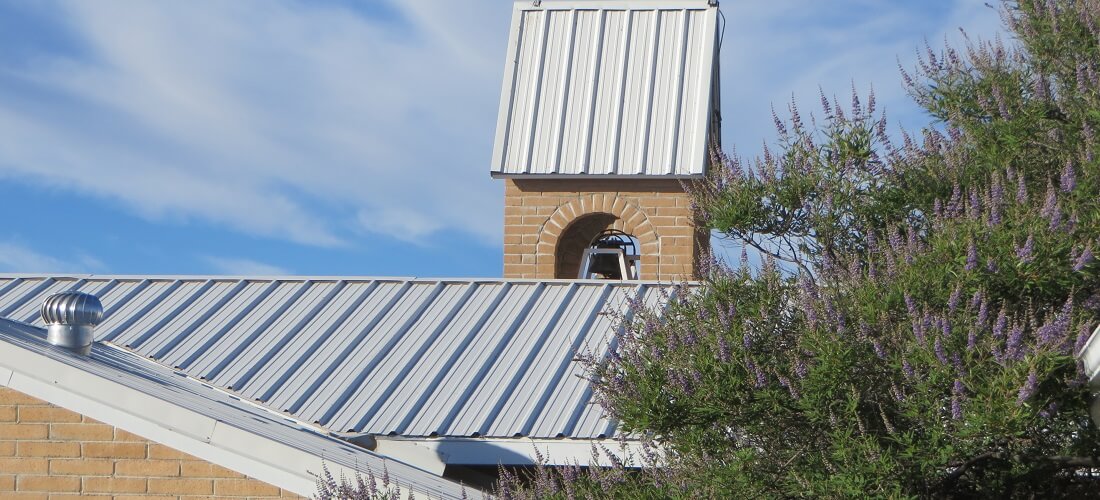 May & June 2017 at Santa Rita Abbey
May – June 2017 at Santa Rita Abbey
Friends and Volunteer Helpers
This summer at Santa Rita Abbey we have two more women Volunteer Helpers living in our Retreat House for several weeks, participating in our prayer, and helping us with our work. We pray that their time with us will deepen their relationship with the Lord Jesus and overflow with blessings for their daily life! Year round, we also have several local friends who volunteer their time and talents to help us with various projects. Towards the end of Lent this year Art and Valerie of Tumacacori Mesquite Sawmill donated a beautiful mesquite slab for the re-designing of our church lectern, and Clay & Marcia Landwehr worked with our Sr. Esther to transform the slab into a new top for the lectern. Without Clay's skills in woodworking, we never would have gotten the new piece mounted correctly! Without our Sr. Esther's creative vision, the slab would have stayed just a slab, instead of becoming a work of art. The result is a larger surface
to hold the books that we use for the Liturgy, with a better slope to the surface to make it easier for readers to see the text. Thank you, Art, Valerie, Clay and Marcia for your contributions to this project! More recently Monika Aylward spent a week at our retreat house, enjoyed the solitude and silence of our peaceful, prayerful setting, and sewed new curtains for the monastic refectory. Beautiful! Thank you, Monika! Thank you to all our friends for your kindness and support, given to us in so many different ways!
New Family Guest House Project
At last, after months of planning, construction has begun on our new Family Guest House! Last Fall we hired Hank Krzysik to be our architect and worked with him on the floor plan and design development; in early May we hired Dave Mellgren of Mellgren Homes to be our contractor. On May 25, we had a ceremony of blessing for the site of the new Family Guest House. Msgr. Tom Cahalane of Our Mother of Sorrows Parish in Tucson, here for his periodic retreat day, blessed the new building site after our morning Mass. Construction began in mid-June. As of this writing (first week of July) the footings have been poured and the stem wall is going up. Please keep this project in your prayers, for the safety of all who will do the work, for its successful completion, and that it will be blessing to all who may use the facility in the coming years.
Mother Agnes Home at Last
Mother Agnes Day was abbess of our mother house, Mt. St. Mary's Abbey in Wrentham, Massachusetts from 1986 until her retirement in 2008.  Her health had declined in recent years. On Ascension Sunday, May 28 this year, she slipped peacefully away into God. One of the antiphons we sing on the feast of the Ascension seems most appropriate for her death: Jesus says, "I go to prepare a place for you, but I will come to you again, alleluia! And your hearts shall rejoice, alleluia, alleluia!" Indeed the Lord came for Mother Agnes! May her heart rejoice with Him forever! She was much loved by her Sisters in MA and by the Sisters of her three daughter houses (Our Lady of the Mississippi founded in 1964, Our Lady of the Santa Rita Mountains founded in 1972, and Our Lady of the Angels, founded in 1987). Our own Mother Vicki and the abbesses of our two Sister houses represented us all at Mother Agnes' funeral in early June. To read more about M. Agnes follow this link: https://msmabbey.org/news/mother-agnes-home-at-last. 
Our Cistercian Order
Every three years our Order holds its General Chapter. Over 200 abbots and abbesses from all over the world meet together for three weeks. The next General Chapter will be held this September in Assisi, Italy. In the meantime, the various regional conferences are meeting to prepare for the event. Here in the U.S., the American superiors–including our Mother Vicki–met at Holy Spirit Monastery in Conyers, Georgia, from June 13-20.
Monastic Experience Weekend Coming Soon
August 25-27 this year we will have another Monastic Experience Weekend. We are currently running a Facebook ad to spread the word among young Catholic women who are discerning their vocation and are interested in the contemplative life. Please join us in prayer that several young women will come to this event and be blessed and helped in their search for God, and perhaps return later to continue discerning with us. Two of the women who attended last year's Monastic Experience Weekend are continuing in the discernment process in hopes of entering our monastery; please keep them in prayer, too! For more information about these weekends, follow this link to our MEW page: https://www.santaritaabbey.org/monastic-experience-weekends/ If you'd like to help us spread the word about our weekends, feel free to download and share the MEW brochure which you will find on the page.
Visiting Sister
Our Order has monasteries all over the world, including several in Latin America. We have two monasteries in Venezuela, Our Lady of Coromoto for nuns and Our Lady of the Andes for monks. In June we welcomed Sr. Jacqueline from our sister monastery of Our Lady of Coromoto in Venezuela. She is spending several weeks with us and has already won our affection with her kind and generous spirit. Traditionally every monastery in our Order is dedicated to Our Lady, and often the name of each monastery contains "Our Lady" plus a name from the physical location of the monastery. Hence our own monastery is officially "Our Lady of the Santa Rita Mountains." Our Sisters in Venezuela named their monastery after the patroness of Venezuela, Our Lady of Coromoto. Our Lady is so named because she appeared to the chief of the Coromoto Indian Tribes of Cospes there in 1651 and 1652, urging him to lead his people to the Spanish settlers who could teach them the Christian faith and baptize them. The chief did so at first, but then changed his mind, and returned to his tribe's traditional land. Our Lady would not let him get away so easily but pursued him! For more of the story of Our Lady of Coromoto go to http://www.santuariobasilicacoromoto.com/SNCoromotoWeb/historia-virgen-coromoto 
July 4th Celebration
We Sisters enjoyed our annual July 4th picnic again this year. It's actually an indoor "picnic" since it's so hot outdoors. After dishing out the good food, we carried our trays over to our picnic spot, the foyer of the art building. This year we shared our picnic with our two Volunteer Helpers, Xin and Ting (who came all the way from China to be here) and with our good friends Clay and Marcia who are here for a retreat. With the Church we pray especially today for our beloved America, that all her people will be respected and valued, and that those who have more will share generously with those who have less. God bless America!