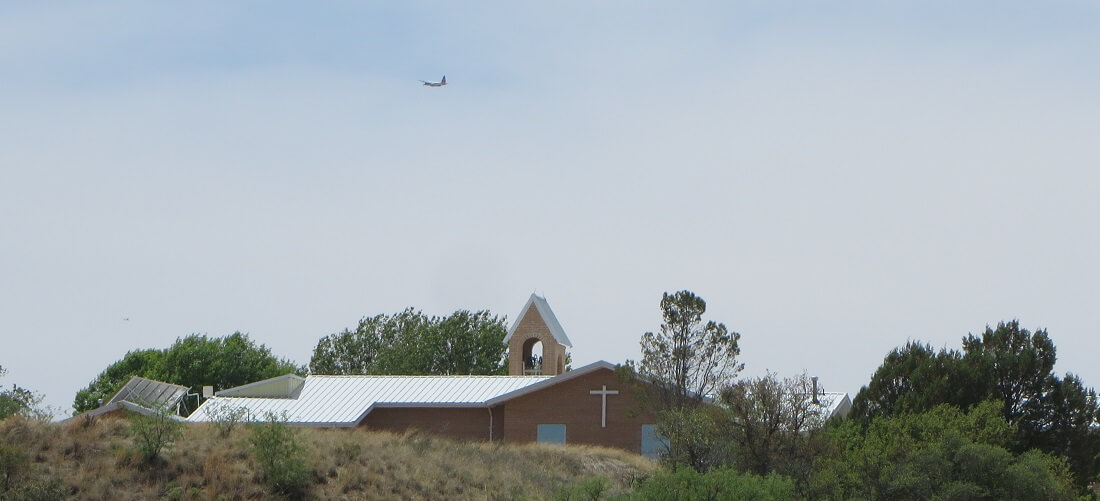 April 2017 Sawmill Fire experienced by Santa Rita Abbey
You may have heard about the Sawmill wildfire which began in our area Sunday, April 23. Here at Santa Rita Abbey, we are all safe. Below the following text, your will find photos of the fire taken from the abbey property.
The fire began to the NW of us, moved across the northern end of the Santa Rita Mountains, raced along pushed by strong winds north of our property, and as of Wed, April 26, has reached far across the Sonoita valley to the mountains on the eastern side where it seems to be moving south now with the changing winds. Last we heard 40,000 acres have burned/are burning so far.
Here at Santa Rita Abbey, the fire has not come onto our property.  We were given evacuation orders late in the afternoon of Monday, April 24–just in case the wind changed in the night and the fire decided to visit us. Thankfully, it did not, but it came within a couple of miles of our northern boundary. It did, however, burn through the Singing Valley area to our north where some of our friends live. Everyone had been evacuated there, too, and the firefighters were able to protect all the homes and ranches. Thanks be to God!
Fortunately we had no guests staying at our retreat house, and our chaplain, Fr. Casimir, had gone home to Utah that very morning. So it was just us Sisters who piled into our cars and pickup and drove to the Sonoita fair grounds, about 4 miles south of here, where the evacuees were gathering. A fire department official was there as well as the fair grounds staff, to give information and to help everyone in whatever way they needed. Local folks showed up and voluntarily offered to put people up in their homes overnight. Meanwhile, volunteers served hot dogs, chips and water to anyone who needed supper.
Among the people offering to shelter evacuees was Susan Hetrick. She kindly invited us to the bed & breakfast, Oasis Renewal Center, that she and her husband Dave own just a couple of miles south of the fair grounds. We gratefully accepted. They actually had enough beds for all eleven of our Sisters! Later that evening the Red Cross arrived at the fairgrounds to help anyone else who came to the evacuation shelter. As you can see, God has been watching over us, and over everyone else, through the generous help of many good people.
We were allowed to come home in the morning, Tuesday, April 25, since the fire did not reach the monastery. That day the fire continued to rage north of us, and more people were evacuated in other neighborhoods. Wednesday, April 26, evacuations continued as the fire continued to spread north and east. There are still a few hot spots near us, but nothing that has required us to leave again. We watch and pray from our monastery hilltop, asking God's protection for everyone impacted by the fire and for all the firefighters and other personnel who are working so hard to keep everyone safe. Thank you to all of our friends who prayed for our safety, and who offered us their assistance. God bless you!
The photos which follow were all taken from Santa Rita Abbey by one of our Sisters.