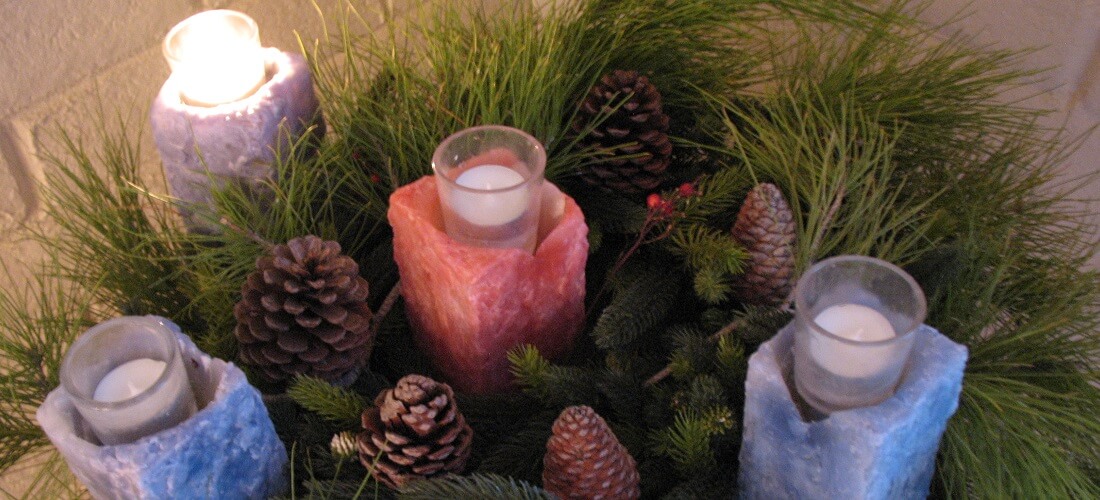 Advent Candle Blessings 2016-1st Sunday
First Sunday of Advent
The first flicker of light tops the candle among the greens of our Advent Wreath.  Our candle has yielded its substance to fire and casts its gentle glow.  The candle and the fire have become one.  We stand at the threshold of a season of longing, of waiting.  "O Come Emmanuel, God with us."  He is present in every atom of his creation.  He surrounds us and is the air we breathe. He has sent his Son as Divine Love in our midst.  All has been accomplished.
So just what is it that Advent is all about?  Jesus has been born and lived among us as light and life; he is yet to come at the end of time. It is about living in the between time.  Jesus' coming to us now is a coming in our own personal time. His advent is ever-present.  We can welcome him at any moment in an ever-widening opening of our being to his presence which surrounds and upholds us.  It is accessed through faith and love. Yet we still long and wait for his coming. Perhaps this time of waiting could be God waiting for us and allowing us to feel the longing he has for each one of us.  Waiting for us to discover in the daily-ness and sometimes dullness of life, the experience of God with us, within us and within all creation.  God waits.
This first candle holds the flame of his love, made manifest in his promise that he is God with us.  In this first week, as God waits for us to respond, may it be our joy to yield our inner depths to him in trust and open our hearts as a wick to the flame of his longing, his infinite longing.  Let us still our hearts in trust and welcome his quiet presence and love.  The love of God who waits.