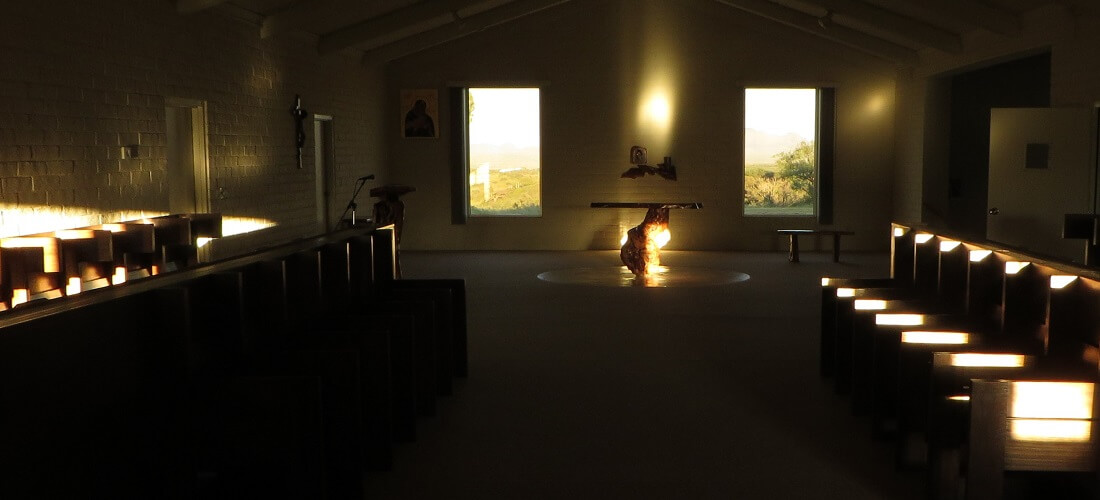 To Be Handed Over
A REFLECTION ON MARK 9:30-37
Jesus was teaching his disciples and telling them, "The Son of Man is to be handed over to men and they will kill him, and three days after his death he will rise."
When you look at today's Gospel, what do you see?  I suppose there are many fruitful avenues to explore and certainly ones that Jesus was urging his disciples to journey upon.  What I see is the bedrock, fundamental core of what it is to be human and to experience at the deepest levels of our being what it is to be a child of God.  It is summed up in what Jesus calls being handed over.
Jesus, as Son of the Father, knows himself to be held firmly and forever in the hands of the Father who sends him forth to be the manifestation of his heart, of his eternal plan to fill every atom of creation with his love and goodness, caring and kindness.  Jesus hands himself over to the Father in the stillness and completeness of a mutual love and sharing beyond our comprehension.  He knows those hands continue to hold him fast as he is sent forth among us to embody an eternal and infinite plan, a plan beyond anything our human minds can grasp.
Jesus must experience what it is to be fully human, to open to our human hearts infinite horizons of mercy, compassion, love and courage. To lead us to our hearts.  To give us the message that we are precious, loved, and commissioned as he was, to live from the place within that is filled with trust in those hands which tenderly care for us.  Jesus is sent.  He is first and foremost handed over to the Father, a place of tenderness and love.
It is from here that he can be handed over to humans and journey through the pain of our blindness, ignorance and malice, to the Resurrection — knowing all the while that the Father's hands hold him fast.  "Father forgive them, for they know not what they do."  "Your right hand holds me fast."  It will do all things for me. Even Resurrection. There is a bigger plan at work and one more vast than anything our human intellects can grasp.  Yet our spirits sense it and invite us into a "yes," to walk in our part of the great plan, a plan to which each of us is commissioned and a plan which is important beyond words.
We are called to greatness, and Jesus in today's Gospel invites not only his disciples but us, too, to this greatness.  The poor disciples can't even have an argument about who is the greatest without it attracting the attention of Jesus.  But the attention of Jesus is not that of criticism but of invitation to go deeper.  To go to that place where true greatness lies:  to be nestled strongly and gently in the hands of the Father.
Perhaps this is the place of prayer, too.  Because at this depth from which we are asked to live, we know him in whom we have believed and that nothing can ever snatch us from his hands, or separate us from his love.  We can rest there, calm and secure.
Perhaps this is true humility, too.  "I can do all things in him who strengthens me."  Those hands will do all things for us, for our world, for the eventual fulfillment of the plan which will lead us all to that place which eye has not seen, nor ear heard, nor has it entered into our hearts all that God has and is preparing for us.  May we have the joy this day of walking in true greatness, in resting in true humility in the hands of the Father who loves us so.  May Jesus take our hand and lead us there.