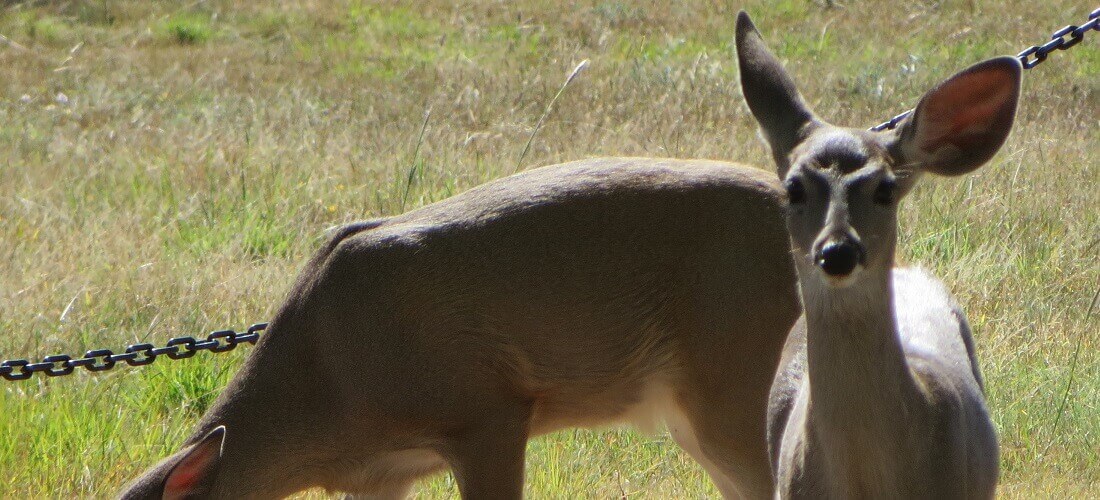 November 15, 2015
Happy Autumn, dear Friends!
We enjoyed our annual community retreat the week of October 18-24.  This year our retreat director was Fr. James Palmigiano of St. Joseph's Abbey in Spencer, MA.  This is the third time over the years that he has been our retreat director and, as always, it was fabulous.  The weather cooperated to provide nice days for long walks in our beautiful high desert or just sit quietly under a tree to read and pray and… enjoy God.
We had a little Halloween fun, too.  Margarita and Fabi applied their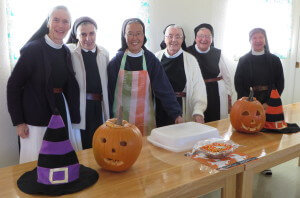 pumpkin-carving skills to two of the many pumpkins that our dear friend Leroy brought us.  Here are some of us with our Halloween decorations in the refectory.  Everyone happy — even the pumpkins, so it seems!!
We have become the favorite place to graze and relax for our wildlife.  A doe and two of her fawns are regulars.  They are so tame they hardly lift their heads when we walk near them.  It has been delightful to watch them rest in the shade of some of our trees.  In fact, they stay there for hours on end.  They also seem to sense that since it is hunting season, they are safe on our property.  Then there are the ravens…  They let us live here.  It is NOT the other way around!  With the black walnuts and pecans ripe now, our two ravens provide us with abundant entertainment:  from knocking the nuts from the trees, to cracking them open and everything in between.  They are quite intelligent — and beautiful with their shiny black feathers glistening in the sun.  Then there are the roadrunners who seem to have re-discovered us and come to peer in our windows and peck at their image.  Who needs TV when you have such entertainment!
Our favorite little snowbird, Sr. Denise from Wrentham has returned for the winter months and it is a delight to have her with us again.  Sr. Katie from Wrentham accompanied her and visited for a few days.  It was her first time to see the desert up close and personal and she loved it!  We hope that she will return sometime and have the opportunity to taste more of our high-desert beauty and the serenity and peace that just sinks into your bones here.  There is a local saying that if a roadrunner crosses your path, you will return.  A roadrunner crossed her path!!  And roadrunners don't lie.
Next week we will have Fr. Casimir of Holy Trinity Abbey in UT here with us until Jan 4, just in time for Thanksgiving.  All of us here extend our warmest wishes and prayers for a Blessed and Happy Thanksgiving to each of you.  May the Father of all goodness and abundant blessings fill your heart with every good gift.