November 6, 2012
Dear ones,
We are back. We decided we needed an upgrade on our website, and here we are. It is all done over. Use our Contact Us page if you want to make comments or suggestions. Meanwhile, take your time to browse. The journal will probably be renewed more often now, and welcome to all our friends. If you want to pass the news to prospective new friends, we will be grateful. Never enough is enough.
Our professional design firm is AnchorWave in Tucson. They have been wonderful to work with and we love the results.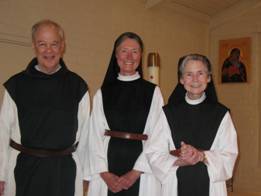 The photo of our Father Immediate, our new prioress, and our old (er..former) prioress was taken on our election day the first of May. The community has always had particular devotion to St Joseph, and chose that day for the last two elections.
We have passed into Fall, and a gentle breeze has stripped our yellow trees.
Wildlife news: we did have for a short time a black bear club. "Have" is not the proper verb for wildlife. They choose us, and we do not "have" them. Our ravens have us, you understand. And somewhere on the property, a trio of javelina has shown up. It is obvious that these creatures, except the ravens, who are permanent, are thirsty from the drought. Some have crossed the mountains from a more droughty area to find refuge in the tree wells with which we water our introduced trees. Locally, another bear cub batted its way into somebody's kitchen and slurped up a chocolate pie, some jelly beans, and various other contents of the cupboard. Game and Fish tranquilized it and took it to a hospice for dislocated animals.
Fr Bernard Johnson is expected on the 19th, and we will enjoy his company and his ministry until sometime after New Years.
It CANNOT be almost Thanksgiving. Only three weeks into Advent and the Advent-Christmas-Epiphany cycle, which has a sweetness in its texture that belongs exactly to it and nowhere else.
We have a tradition in the house by which the prioress acts as Santa, and each sister may ask for a modest gift for Christmas. Many wish for books, so helping her out that way is my delight. I have searched (lovely!) and shopped on line, and now the results are coming in. It is SO MUCH FUN. Nothing nicer than being the librarian and book-buyer.
Happy Thanksgiving, if we are not back before then.